Internet cables in the North Sea targeted by sabotage: how vulnerable are we? | Technology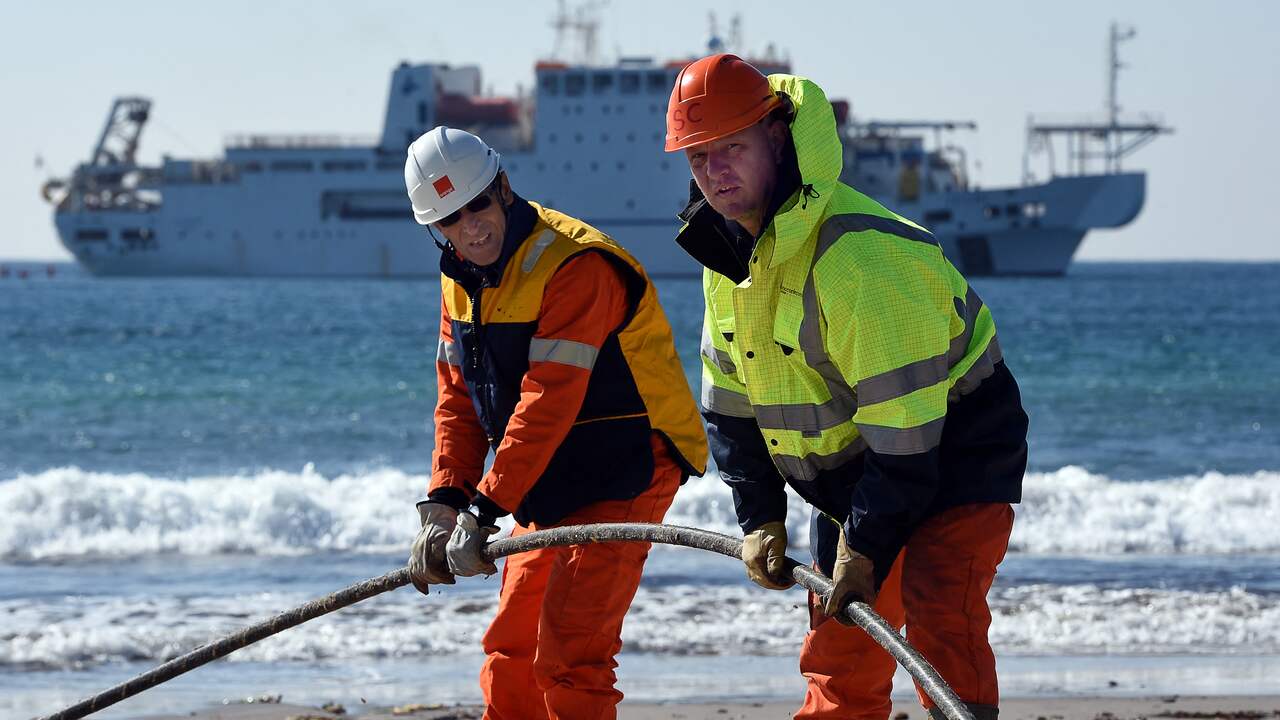 The bottom of the North Sea is full of internet cables. Suspicious Russian ships have recently been spotted around these cables that would like to sabotage our internet. Should we be afraid that our internet will go down?
Nederland is een belangrijk knooppunt in het wereldwijde internet. Rond Amsterdam komen veel zogenoemde backbones samen. Dat zijn dikke internetkabels die ons land verbinden met bijvoorbeeld Groot-Brittannië, Noorwegen en de Verenigde Staten. Die duizenden kilometers aan glasvezelkabels liggen op de bodem van de zee.
Rusland is op de Oost- en de Noordzee aanwezig met vissersboten en vrachtschepen. Die smeden daar sabotageplannen, blijkt uit gezamenlijk onderzoek van de publieke omroepen van Noorwegen, Zweden, Finland en Denemarken.
Maar als zo'n zeekabel wordt doorgeknipt, kun je nog steeds bijvoorbeeld Amerikaanse websites bereiken. Het internet zal ook niet uitvallen als meerdere kabels worden gesaboteerd.
"Het internet is nog nooit lamgelegd", vertelt Stijn Grove van Stichting Dutch Datacenter Association aan NU.nl. "Het internetverkeer neemt namelijk automatisch de beste route die op dat moment beschikbaar is."
Internetverkeer zoekt zelf de beste route
Als een kabel niet werkt, gaat het verkeer via een andere route. "Als meerdere kabels tegelijk uitvallen, dan kan je verbinding wel trager worden", legt Grove uit. Dat komt doordat de alternatieve verbinding bijvoorbeeld langer of minder snel is, of meer verkeer moet verwerken.
Nederland is volgens Grove met heel veel kabels op het wereldwijde web aangesloten. Daardoor zal het internet alleen in extreme situaties uitvallen. Daarbij moet je denken aan bijvoorbeeld een oorlog in Nederland of een van de landen om ons heen.
Door het internet te verstoren, treffen aanvallers bovendien zichzelf, zegt voormalig luchtmacht- en inlichtingenofficier Fred Streefland. "Daardoor kunnen bijvoorbeeld ook in Rusland problemen met internet ontstaan."
Een cyberaanval kan veel grotere problemen veroorzaken
Cyberaanvallen vormen een veel groter risico dan sabotage van internetkabels, denkt Grove. "Een succesvolle aanval op het stroomnet, het elektronische betalingssysteem of een mobiel netwerk kan de maatschappij ontwrichten."
"Daarom moeten we onszelf realiseren dat onze kritische infrastructuur kwetsbaar is voor zowel digitale als fysieke aanvallen", zegt Streefland. "Je kunt aanvallen niet tegenhouden, maar de schade wel beperken. Alles is te hacken en 100 procent beveiliging bestaat niet."
Duizenden kilometers aan kabels op de bodem van de zee of oceaan beveiligen is ook niet mogelijk. Gelukkig zijn er tientallen tot honderden back-upverbindingen.
"Infuriatingly humble social media ninja. Devoted travel junkie. Student. Avid internet lover."