Chinas New Ambassador to Afghanistan Welcomed by Taliban in Lavish Ceremony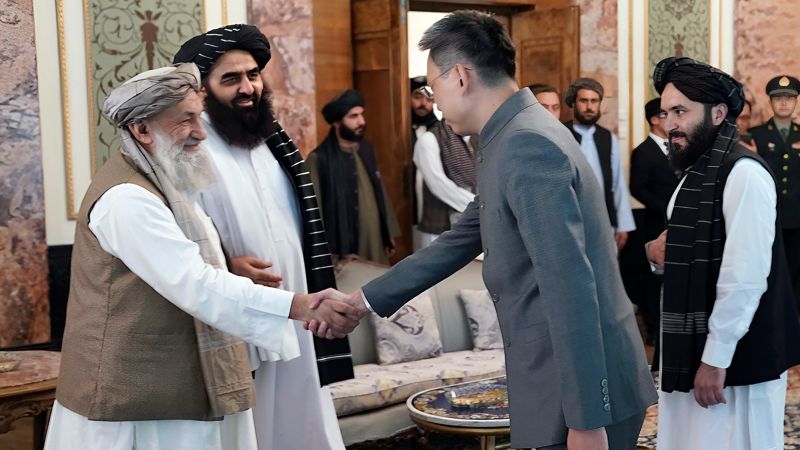 China's new ambassador to Afghanistan, Zhao Sheng, was warmly welcomed by the Taliban in a grand ceremony at the presidential palace in Kabul. The event marked a significant milestone in China's efforts to maintain diplomatic presence in Afghanistan following the Taliban's return to power in 2021.
Among the few countries that has chosen to maintain diplomatic ties with Afghanistan, China hopes to forge stronger relations with the war-torn nation under the leadership of the Taliban. Taliban Prime Minister Mohammad Hasan Akhund accepted Zhao's credentials and expressed optimism for deeper diplomatic cooperation between China and Afghanistan.
During the ceremony, Zhao emphasized China's commitment to respecting Afghanistan's independence and refraining from interfering in its internal affairs. He made it clear that China does not seek to make Afghanistan its area of influence. This statement was in line with China's Ministry of Foreign Affairs, which declared Zhao's appointment as a routine rotation aimed at strengthening dialogue and cooperation between the two countries.
While China has expressed caution regarding the security challenges posed by the Taliban's resurgence, the nation has reiterated its willingness to increase collaboration with Afghanistan and its regional neighbors on issues such as counterterrorism and economic integration. In May, China, Afghanistan, and Pakistan vowed to enhance trilateral ties on security and counterterrorism. They also agreed to extend the China-Pakistan Economic Corridor (CPEC) to Afghanistan, a move aimed at boosting connectivity and economic integration.
The CPEC, a flagship project of China's Belt and Road initiative, involves substantial investment in infrastructure development, linking China's Xinjiang region to Pakistan's Gwadar port. The decision to extend the corridor to Afghanistan signals China's long-term commitment to the region's stability and prosperity.
With the arrival of Ambassador Zhao Sheng, China hopes to deepen its economic cooperation with Afghanistan and contribute to the country's reconstruction efforts. While challenges remain, such as ensuring security in the region, China remains committed to working closely with Afghanistan to advance mutual interests and create a more stable and prosperous future.
"Devoted bacon guru. Award-winning explorer. Internet junkie. Web lover."