Elon Musk sends people into space with 'SpaceX-occasion'
Elon Musk's space company, SpaceX, today sent four astronauts to the ISS space station with a reused launcher.
The Edeavor capsule was also used last year, during a manned flight from SpaceX. By reusing the material, the costs of space travel are significantly reduced.
From SpaceX-occasion by Elon Musk
The Crew Dragon capsule launch was actually scheduled for Thursday, but due to bad weather the four astronauts did not leave the U.S. Kennedy Space Center at Cape Canaveral until 11:49 a.m. Dutch time on Friday. With launch issues, the SpaceX capsule would land in the ocean.
When the four astronauts arrive at the International Space Station after a twenty-four hour flight, nine more are on board. These come back to earth after a few days.
Experiment in the ISS
As the mooring of Elon Musk's space shuttle on Saturday, the two astronauts from Japan and two from France will stay on board for six months. Here they will conduct hundreds of scientific experiments. In total, some 3,000 research projects have already been carried out over the past twenty years.
NASA has one direct followed every second of the flight.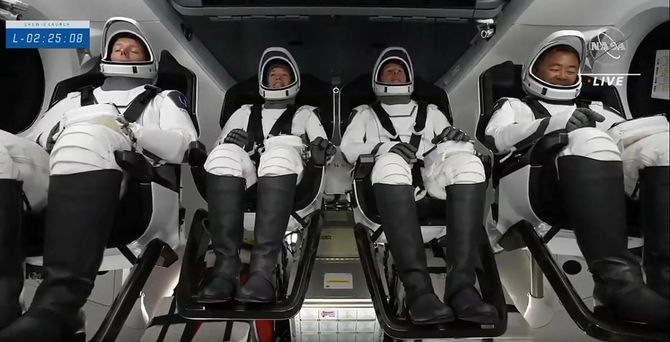 Until 2011, NASA depended on its Russian colleagues, since last year SpaceX was allowed to take astronauts into space itself. As a result, NASA is no longer dependent on Russia, but Elon Musk plays a major role in the space shuttle program. The Russians closed their entire program in 2011.
Big win for NASA on Mars
A few days ago, we learned that one of NASA's space projects was a huge success. The company was able to develop oxygen on Mars, Elon Musk's other favorite destination, with a device called MOXIE. This will not only bring future life on Mars closer, but also make space travel easier in the future through this device. You can read exactly how it works here.
Elon Musk's SpaceX shoots civilians into space this year (and you too)
a