National coach Koeman returns to Koeman days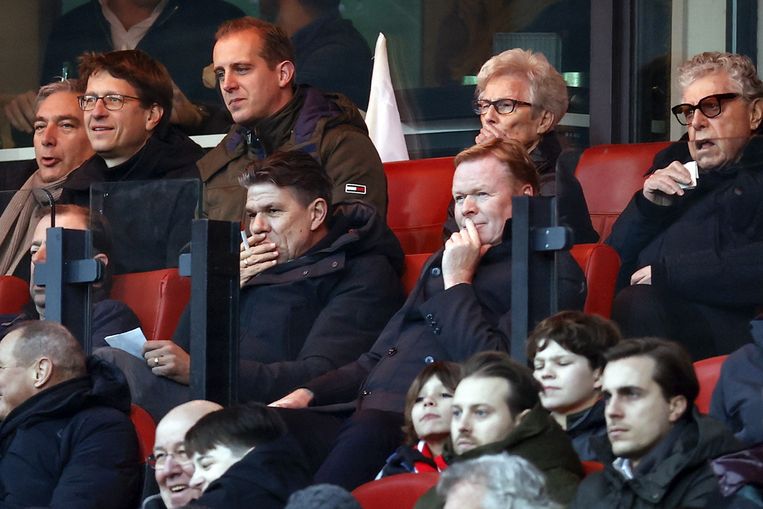 In Ronald Koeman's second presentation as national coach, the dividing line with the period under Louis van Gaal was carefully drawn. Koeman also didn't feel the need for a transfer of services. It has nothing to do with the difficult relationship between the two. In fact, Van Gaal was already calling Koeman his ideal successor long before the World Cup.
Koeman, holder on January 1 and presented to Zeist on Monday, prefers to reconnect with his first period as national coach. Koeman returns to the days of Koeman. He realizes that his second term will be more difficult than at the time, between 2018 and 2020, when he said goodbye as a fairly successful employee of the KNVB, to walk the path to his dream job. , which was included in a clause: to be a Barcelona coach.
There is currently no provision included. If successful, he will remain national coach until the 2026 World Cup in the United States, Canada and Mexico, with his brother Erwin "on our possibly last trip", Sipke Hulshoff and Patrick Lodewijks as assistants , as well as Nigel de Jong as the new director of top-flight football. Officially his boss, although Koeman debuted very young midfielder Nigel as Ajax coach at the start of this century.
Kissed to life

In 2018, Koeman breathed life into the seemingly dead Dutch national team after two missed tournaments. He moved the selection from Noordwijk to the woods of Zeist, where the players learned to interact in a family way in private. Now the team has a status again, just below the absolute top in the world. Louis van Gaal went unbeaten for 20 matches, until the penalty shootout lost to later champions Argentina in the quarter-finals of the World Cup in Qatar.
After the dismissal of Frank de Boer, Van Gaal qualified first for the World Cup and for the final of the Nations League final to be held in the Netherlands this summer. He gradually changed the game system from 4-3-3 to 5-3-2, although he preferred to speak of 3-4-3, which in practice led to boring football during the match. World Cup. This unattractive game was partly due to the strikers' lack of form. The system was also introduced to bolster defensive security against very big opponents, but when Argentina were such an opponent things immediately went wrong, even though it was close. There was not much to enjoy for the enthusiast: no real success, no good football.
Koeman tries to combine both aspects, as difficult as it is in today's football. What really matters, by the way: "The intensity. This is the basis of success. He sees it reflected in Feyenoord's game. Koeman also has experience with the 5-3-2, as a club coach and as a national coach, but he has regularly noted that he "with that extra man in the back falls short of someone else".
France's first opponent

There is also something to be said for the construction of the World Cup system, with France finalists as the first opponents in the qualifying series for the 2024 European Championship in Germany on Friday March 24 in Paris. Only: Koeman won't do that. Countries like France and Argentina also played 4-3-3 at the World Cup. "We try to play attractive and attacking football."
He's already spoken to a number of players, but it's all too easy to say that they too would rather say goodbye to the way of playing under Van Gaal as soon as possible. Because everyone agreed with Van Gaal on his change of tactics, even if, for example, captain Virgil van Dijk, used to the 4-3-3 in Liverpool, had to get used to it. During the World Cup, Van Dijk was often a kind of goalkeeper for the other two central defenders, instead of putting his mark on the game himself. Players usually bow to the coach's ideas at the end. One plays system A in his club, the other system B.
Koeman just wants to continue on the path until then, and hopes Memphis Depay finds the form at Atlético Madrid that made him a sensational striker in his first half. If Gini Wijnaldum finds form again, he will definitely call it. Like Van Gaal, he hopes for the breakthrough of the attackers, because whatever the system, the Orange is far from the world top in the offensive sense. Anyway, for Koeman the national coach is an honorary job. I am very happy and proud to have this opportunity again.
Koeman praises Berghuis

When Ronald Koeman arrived at De Kuip on Sunday for Feyenoord – Ajax, he didn't feel like he was involved in football. 'All that ME, the nets around the pitch. Not being able to park at P2. It is a social problem. There was so much hatred towards Ajax. After the interview with Steven Berghuis, who moved from Feyenoord to Ajax a year and a half ago, Koeman sent a message to support him. Berghuis has spoken openly about the influence of threatening messages from fans on his mind and that of his family, and the amplification by certain media. Koeman praised Berghuis: "You often keep your mouth shut. That's how he felt. And I know from experience what that does to the family.
"Introvert. Avid gamer. Wannabe beer advocate. Subtly charming zombie junkie. Social media trailblazer. Web scholar."