Action group denounces the commercialization of public space: 'Wanting to counterbalance'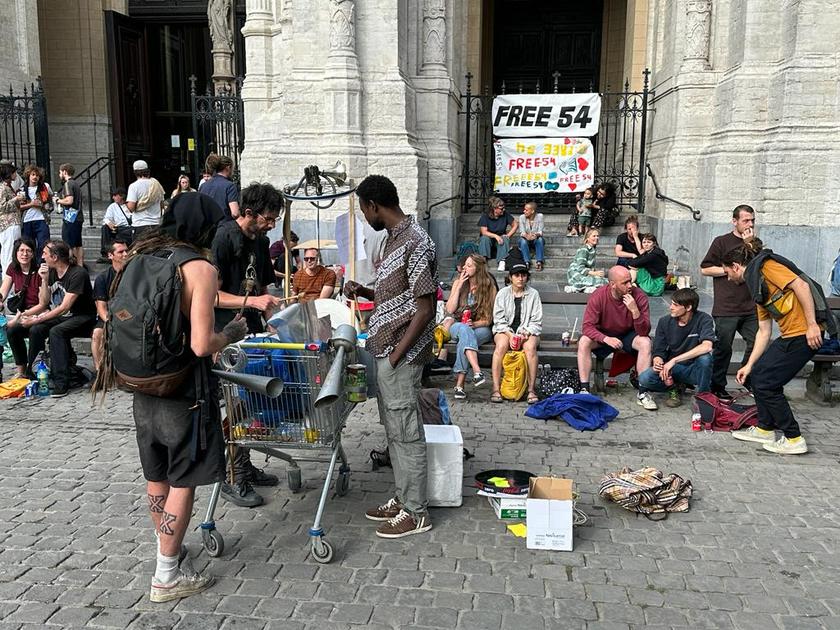 The action group Free54 denounced Friday evening the commercialization of public space on the Sint-Katelijneplein. Since 6 p.m., a hundred activists have been sitting on the steps of the Sint-Katelijnekerk to demonstrate their discontent. "We feel like this place is becoming less and less of us."
"Our city's squares and sidewalks have been taken over by terraces, public benches are rare and the consumption of alcohol in public spaces or on the streets is prohibited," he said.
Free 54 accuses the Brussels town hall of "giving people who have money a privileged place in the city". They therefore want to "reclaim" the public space.
Terrace extension
In 2015, the former Brussels alderwoman for Economy and Labor Marion Lemesre (MR) authorized the restaurants on Sint-Katelijneplein to extend the terraces.
"Lemesre pressed politics with the promise of boosting the local economy," the activists said. "Since then, six of the seven local Brussels restaurants in the square have been replaced by restaurant chains such as Ellis Gourmet Burger or Bavet, and the terraces have continued to grow. In addition, the public benches have been removed and the police departments have stigmatized young people by carrying out regular checks in the square.
Of the 14 public benches, a handful is still standing seven years later.
"Food expert. Unapologetic bacon maven. Beer enthusiast. Pop cultureaholic. General travel scholar. Total internet buff."