TU Delft and Delfland Water Board WaterStreet Proving Ground 5 Years | Information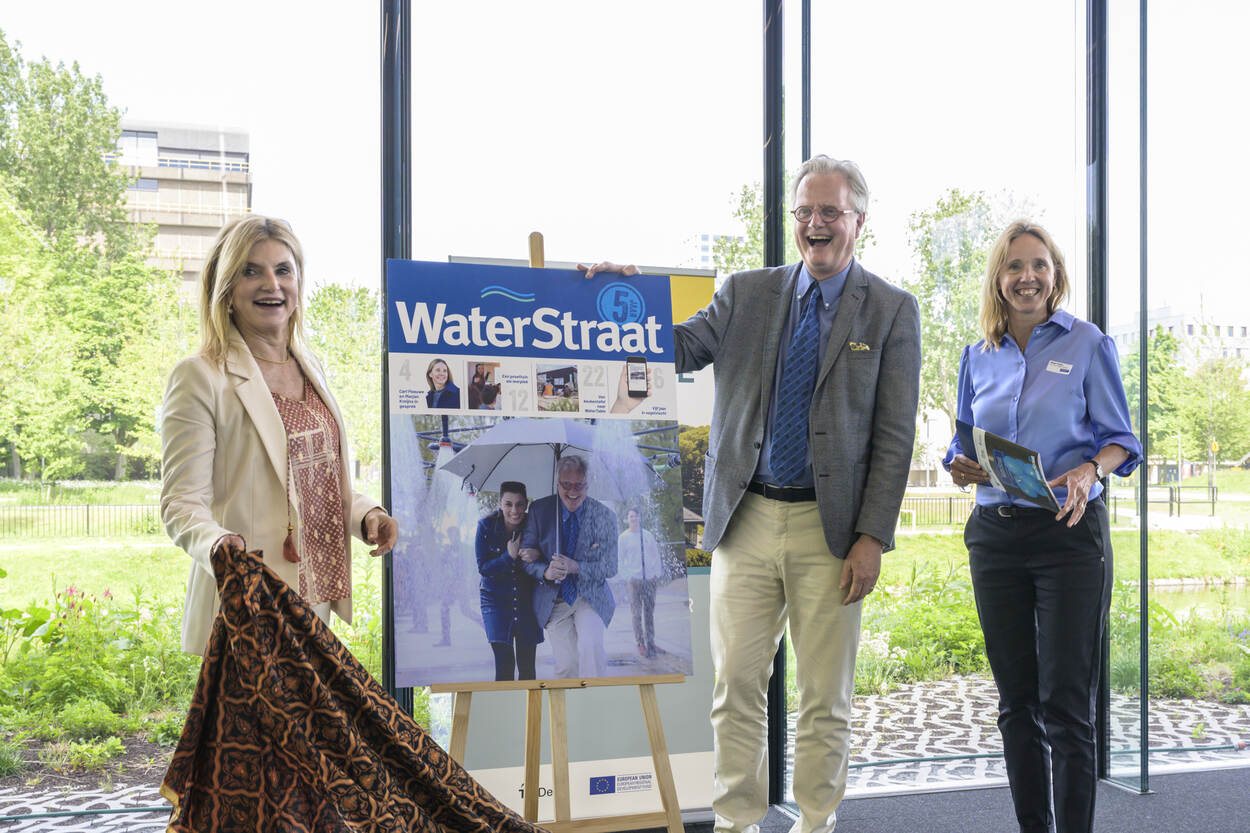 News article | 26-05-2023 | 15:34
It has also been affected again recently: bad weather, code yellow and flooding in large parts of the country. Due to climate change, we can count on more heat and drought, but also more precipitation in a short time. And when it rains, it falls a lot in a short time. A densely built living environment with lots of hard surfaces cannot support this. So it must be different in many places. But how?
Five years ago, The Green Village, VPdelta+ and the Delfland Water Board built the WaterStreet on the TU Delft campus to provide a space for innovation and research that helps us better cope with more extreme weather conditions in built-up areas. This week the fifth anniversary was celebrated and successes achieved and lessons learned were shared. Delta Commissioner Peter Glas visited WaterStraat for this purpose.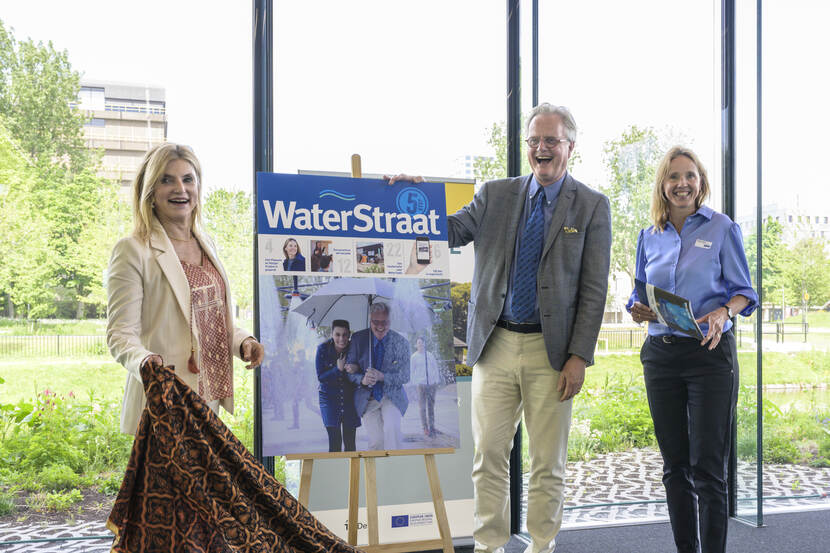 Five years in a nutshell
Over the years, various innovations have been applied in public space from Groningen to Roermond. Sometimes visible, sometimes hidden below ground level. Always in favor of a climate-proof environment. Director of The Green Village, Marjan Kreijns: "Since 2018, 29 innovations have been tested which have already been implemented in more than 100 locations across the Netherlands. This means that more than 350,000 m2 of street surface has been adapted to the climate and 250,000 m3 of water has been buffered or drained or infiltrated into the ground.
concrete "water table"
One such large-scale project is Trewatin's WaterTable. With their concrete "water table", Trewatin prevents damage and nuisance caused by heavy rainfall. The concrete "table" elements create a hollow space where large amounts of water are buffered. Another example is the Urban Rain Shell, a method for buffering, purifying and utilizing rainwater. Shells and minerals act as natural filters.
Over the years, thousands of WaterStreet visitors have become aware of what goes on under the sidewalk. The living lab is therefore also an important knowledge exchange platform for parties involved in climate change adaptation.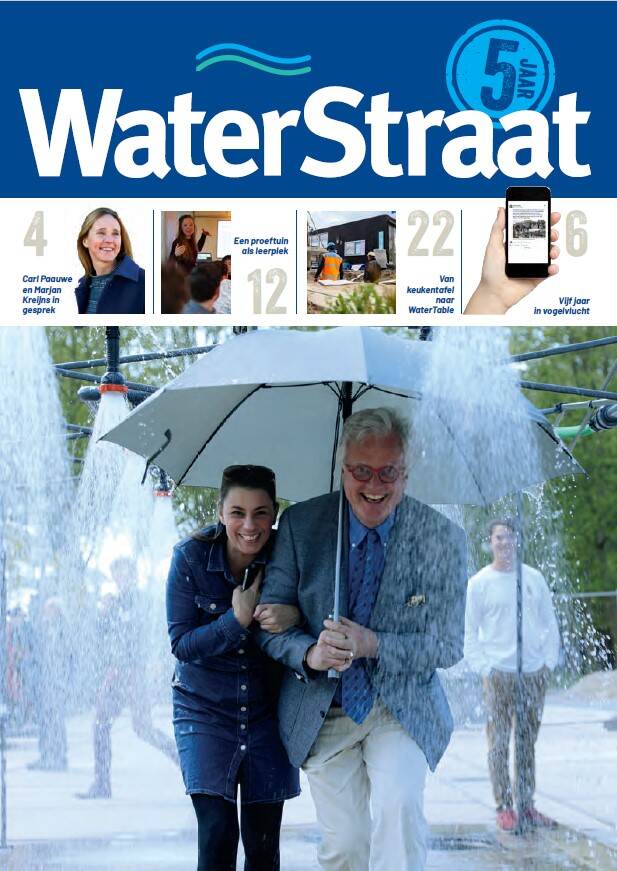 Magazine 'Five Years of WaterStreet'
The fifth anniversary meeting focused on lessons learned and a call to action: our cities are still far from being able to withstand more extreme weather conditions. Those present were informed on the spot of 14 innovations. Delta Commissioner Peter Glas took stock of five years of WaterStraat and received the first copy Review 'Vijf Jaar WaterStraat' handed over.
He stressed the importance of action: "We are increasingly facing extreme weather conditions: the humidity is getting wetter, the drought is getting drier and the heat is getting hotter. As a testing ground for innovations, the Waterstraat is important for the resilience of our cities and towns. Innovation takes courage, time and commitment from all parties involved. I encourage all parties to continue on this path fully, given all the challenges posed by climate change.
TU Delft Climate University
The WaterStraat is the testing ground for experimentation, research and demonstration to better cope with more extreme weather conditions in built-up areas. This is one of the initiatives TU Delft is working on on climate challenges. Entrepreneurs, researchers and area managers are working together on ideas to make streets and neighborhoods more resilient to more extreme weather conditions, such as heavy rains or prolonged drought. The WaterStreet offers the opportunity to test, develop and demonstrate concepts and products. It is the intermediate step between implementation in the laboratory and concrete application in the public space.
"Food expert. Unapologetic bacon maven. Beer enthusiast. Pop cultureaholic. General travel scholar. Total internet buff."