The Erik Wamelink exhibition also shows the new mausoleum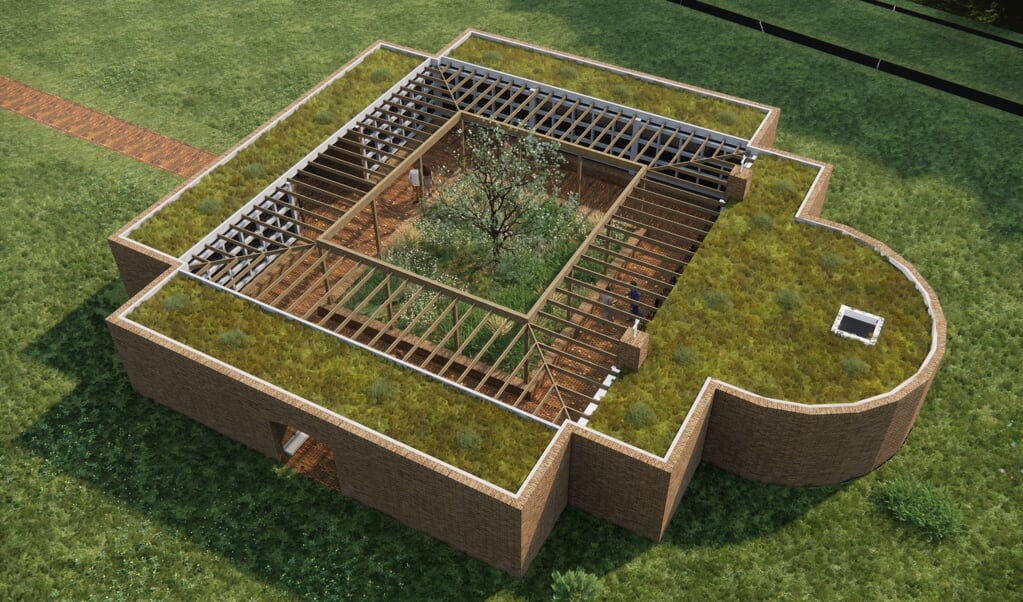 Life

Special indoor garden with space for 146 graves
By Kyra Broshuis
GROENLO – Renowned architect Erik Wamelink, originally from Lievelde but resident in Groenlo, designed the new mausoleum being built at the Coptic Orthodox Monastery of Lievelde. The monastery, formerly known as Loreto, passed into the hands of the Coptic Orthodox Church in 2016.
There is currently an ongoing exhibition in the KiK Gallery of Wamelink's work. Images of the new mausoleum can also be seen between the beautiful models and photos. Wamelink says he is using the monastery courtyard as an example for the new building. The mausoleum is built about 130 meters from the monastery, near the Brakerweg.
Indoor garden
"The monastery traditionally has a lot of land, which was used in the past to be as self-sufficient as possible," says Wamelink. "The mausoleum is placed in the axis of the entrance door of the monastery. In the landscape you will soon only see a wall about 3 meters high. Once inside you see the courtyard with an old fruit tree and space in the walls for around 146 graves. They are covered with a slab of natural stone with the name of the deceased on it.
As simple as possible
This is a "typical Wamelink" design. "I'm averse to frills and make my designs as simple as possible. The times we live in are already so busy and hectic that it's often a cacophony of information you can barely process. If you also see very complicated structures, that's too much in my opinion. I try to keep it simple in all my work. A calm facade is much nicer in the long run, because it doesn't get boring.
Casual encounters
For the mausoleum, Wamelink thinks it is important that there is enough space to sit. "There will be a wall around the inner garden that you can sit on. It is good that in any cemetery you have the space for chance encounters and that you can sit quietly and talk about the deceased. As long as you talk about them, they are always with us. By locating the mausoleum on the side of the current parking lot, Wamelink does not have to allocate additional land for parking. The greenery he "removes" from the mausoleum is returned to the roof. "With plants that are suitable for this region."
The architect has been retired for years but is still very active. "For clients for whom I designed a large house, I now make a smaller house. Adapted to the situation. I like to keep busy but at a lower speed. I enjoy helping young colleagues explore possibilities. I do it with great pleasure. Some of Wamelink's work can be seen at Galerie KiK at Nieuwestraat 22 in Groenlo.
The "Desire for Simplicity" exhibition is open on working days from 2 p.m. to 4 p.m. and can be visited until September 1.
"Food expert. Unapologetic bacon maven. Beer enthusiast. Pop cultureaholic. General travel scholar. Total internet buff."