Suddenly, Obama is in your restaurant in Beemster: "He didn't want sauce"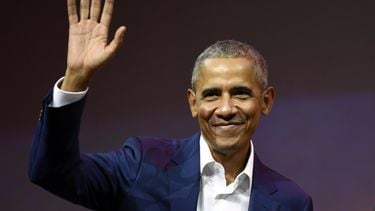 It's hard to imagine a better advertisement for your company: Barack Obama suddenly shows up at your company for lunch. It happened to Cindy from restaurant 1612 in the North Holland polder Beemster. She suddenly found herself in an advertising circus yesterday and also at the table with Eva Jinek.
Barack Obama may not have been President of the United States for years, but there's still plenty of attention. Books, podcasts, a Netflix series and now also a world tour to have "discussions": it's all there. Obama spoke to thousands of people last night at the Ziggo Dome in Amsterdam, where he was interviewed by Janine Abbring (who also did major interviews for several seasons for summer guests).
Obama among the tulips
"The Obamas have now become pop stars," Eva Jinek told her talk show's 649,000 viewers. "The success factor? An extraordinary talent with words. But yes, talent or not: you also need food. After Obama's arrival in the Netherlands, the ex-president was taken to Noordbeemster. Those who know a little about this region know that tulips are mainly found here. Obama also watched it before going to restaurant 1612 in the same beautiful "polder point".
High visit, but no idea who
An hour and a half before lunch, the owners of the Beemster restaurant were informed of the arrival of a high-ranking visitor. Cindy van Westen and her son Micka had no idea who. "Until he walks through the door," Cindy tells Eva Jinek. Talk Show Lady: "No one was there to say, 'Cindy, do you comb your hair?' De Beemsterlinge: "No, we only understood that someone important had come to lunch with us. In the morning, a number of security personnel entered. They asked if it was possible to have lunch with someone in a separate room. Someone from America, someone of great stature.
"What did you think?" Naturally wanted to know Eva Jinek. Cindy then: "I didn't dare to dream that it was Barack Obama, of course. But we quickly realized that he was someone very important. For example, they asked if there were multiple exits and walked to the back to see if there was an emergency exit.
Obama was very nice
And then he comes in… "Obama was very nice," Cindy said immediately. She and her son were ready in the restaurant to welcome "this high person". "He shook our hands and said, 'How nice to be here, thank you for having us; where can we sit? It was actually very relaxing. "And you were also relaxed?", Wanted the hostess of the van Jinek still know. "I tried to be as relaxed as possible. But that was very special, that was clear. He understood that too."
Son Micka had to explain to Obama that restaurant 1612 had a new menu. "I had the honour, but it wasn't in English yet. Fortunately, I speak it well enough to explain it properly. I asked him if he "could" speak Dutch, but no, unfortunately not. I explained the whole map to him and he said he wasn't too hungry, but "like this and that". "Goat cheese," immediately explains another diner, Hans Kraaij Jr. "Yes, goat cheese," says Micka, which he served as a salad. "Very tasty goat cheese. And the Beemster fries, the best ever. He entered Jinek more and more interesting. Eva Jinek: "Did he eat fries with mayonnaise?" No, not that yet. "He just didn't want sauce with it." Micka served him from start to finish without shaking his hand. "He was also so calm and didn't seem too formal. Obama was very caring and very kind. It was very relaxed to be with him.
And how did Obama end up in Noordbeemster? Cindy: "Nobody knows."
You can rewatch Jinek's show via RTLXL.nl.
Twitter never gets it, but: Soldier of Orange looks 'ordinary' after 12.5 years and is anything but
Did you see an error? Email us. We are grateful.
"Bacon trailblazer. Certified coffee maven. Zombie lover. Tv specialist. Freelance communicator."