Starship, Musk's new toy, brings mass space travel closer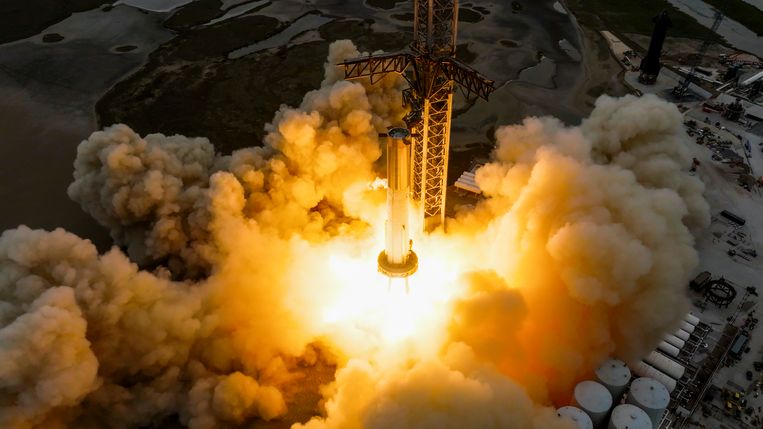 The launch date is still pending formalities, but all signs point to the new Starship making its test flight from its base in Texas later this month. If successful, it will be more than a boost for owner, eccentric billionaire Elon Musk. Starship is also the vehicle that the American space agency Nasa wants to use for its ambitions to return to the Moon.
It was great to see @SpaceX take a big step forward with Starship's hot-firing test!

Starship is an integral part of @NASAMoon to Mars architecture and help us land astronauts on the Moon. SpaceX's success is NASA's success is the world's success. https://t.co/wARDoUG9Ya

— Bill Nelson (@SenBillNelson) February 10, 2023
What is Starship?

Starship is the newest spacecraft from the American aerospace company SpaceX. The rocket consists of two parts: the Starship is the upper part of the rocket. This is the real spaceship. It can accommodate a hundred passengers. By comparison, the space shuttle could hold up to eight astronauts. The lower part of the rocket is called Super Heavy and provides the thrust needed to launch Starship and its cargo into space. Super Heavy's workhorses are 33 of SpaceX's own Raptor engines. With that much thrust, Starship can carry up to 150 tons of cargo. The most powerful rocket currently in operation, NASA's Space Launch System, can carry up to 95 tons.
Who built the ship?

Starship is a SpaceX project, owned by billionaire Elon Musk. Musk is also the founder of electric car maker Tesla and has owned Twitter since 2022. SpaceX is no longer a newcomer to space travel. The company has accumulated a lot of experience and has a reputation for quality and reliability. SpaceX provides regular launches of satellites and scientific equipment with its Falcon rockets. The company also regularly transports astronauts and cargo to and from the International Space Station.
What is Starship used for?

Elon Musk dreams out loud that humanity will one day settle permanently on Mars. If Starship does live up to expectations, it's taken another small step in that direction. But a manned trip to Mars is still a long way off.
A much more realistic goal for Starship is to fly back and forth to the moon. Last year, NASA announced plans to use a Starship variant to put American astronauts back on the moon for the first time since 1972, as part of its Artemis program. NASA recently signed a nearly $3 billion contract with SpaceX.
A base camp on the lunar surface and a space station in lunar orbit are also targets of the Artemis program. To bring the necessary equipment to the moon, the Starship's ability comes in handy. Completely separate from NASA, Starship will also launch regular satellites. For example, it will soon be essential for raising the much heavier second-generation satellites of SpaceX's own internet system, Starlink.
Is Starship reusable?

Just like with the Space Shuttle, Starship is supposed to be able to perform its tasks in space and then land safely on Earth. What's special is that not only is the Starship spacecraft itself reusable, but also, according to SpaceX, the Super Heavy booster will be. If successful, Starship would be the first complete launch system that can be used multiple times. Reusable rockets are the future of space travel, according to SpaceX. Although they are more expensive to develop, they offer significant efficiencies and cost savings over the longer term.
Even after an interplanetary trip?

Unlike the space shuttle, it is expressly intended that Starship is also suitable for distant interplanetary travel. That is why it is crucial that Starship can also take off autonomously – without the Super Heavy thruster, for example from the surface of the moon or Mars. A huge push isn't necessarily needed for that either: on Mars and the Moon there's less gravity than on Earth, and on the way back there's a lot less cargo to transport. Things look good in this area too: as early as 2021, SpaceX conducted a successful test in which a prototype spacecraft flew independently at an altitude of 10 kilometers and then landed cleanly again.
Read also:

After a Martian year, the main question remains: Was there ever life?

It is impossible to imagine the surface of the neighboring planet Mars without the robot Perseverance. It passed exactly one full orbit around the sun this week. This offers fascinating perspectives.
ESA boss: Europe must be much more independent in space

The space organization Esa aims to give Europe more autonomy in space travel. But the Netherlands are moderating their efforts. He misses opportunities, says Esa boss Josef Aschbacher.
"Food expert. Unapologetic bacon maven. Beer enthusiast. Pop cultureaholic. General travel scholar. Total internet buff."