Power hockey predominates at the World Cup; is there still room for the stylist?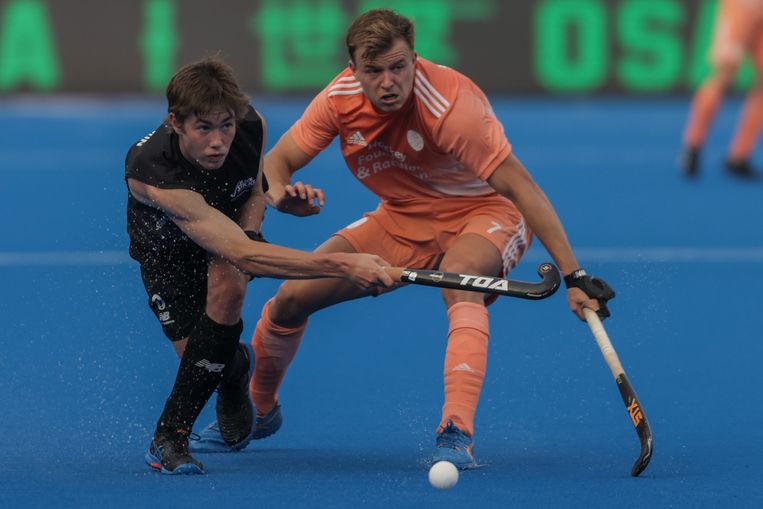 Jeroen Delmee has often pointed out since his appointment as national coach a year and a half ago that the laws of international hockey cannot be compared to the Dutch standard. "In the Netherlands we think hockey players are good if they can get past five or six men, but other things are needed in world hockey."
Delmee refers to walking ability, speed, strength, energy, and gogma. But also about tough defenders who are not afraid of duels, about tireless midfielders who sprint from circle to circle, about attackers who keep chasing and can kill a game at the right moment.
International hockey has become power hockey in recent years. In the World Cup in India, the top countries like Netherlands, Australia, Belgium, Germany and England play with very high intensity. Whoever blinks missed an attack. "I see very attractive hockey at the World Cup," said Kampong coach Tim Oudenaller.
With five internationals, Kampong (leader of the major league) is the supplier of the Dutch team. Oudenaller: "I find the game of the Netherlands – with a lot of speed, winning balls and counterattacks – spectacular to watch. That's how we want to play with Kampong too, "said Oudenaller on the eve of the quarter-final between the Netherlands and South Korea (Wednesday 2:30 p.m.).
racing game

Former international Bram Lomans also enjoys watching the Netherlands game in India. The 205-time international and current HGC men's coach sees the pace of play being much higher than during his international era (1995-2004 and 2007-2008). "In fact, things are moving much faster than ten years ago. The guys are all incredibly fit. By optimally using the replacement program, they can go forward for four, five or six minutes," says Lomans.
Being allowed to change without limits has changed the sport significantly, Lomans believes. "When I was just international, it became ed.) implemented. We have not yet used this option very intelligently. If someone was tired, they would raise their hand and be replaced. Now it is exactly clear what the intention is before the game and every player fights to the end. Hockey has become more of a "sprint game," Lomans says.
Not only did the substitution have a major effect on the high pace of play, but the introduction of auto-passing in 2009 also plays an important role. When play resumes, a hockey player can dribble immediately, so play barely stops. There is certainly no time to argue with the referee.
power based

What is remarkable about this Hockey World Cup is that the (inter)national hockey players are great athletes, who spend many hours in the weight room. "The best players in hockey practice strength training much more constructively than we were used to," says Lomans, who won two Olympic titles (1996, 2000) and a world title (1998) with the Netherlands. Down.
The former HGC criminal corner specialist was in the weight room twice a week during his prime years. His penalty corners reached a speed of 114 kilometers per hour. The current top criminal corner shooter in the Netherlands, Jip Janssen, does weight training three to four times a week. The 1.90 meter tall defender hits 120 kilometers per hour with his specialty.
But not only do penalty corner specialists spend many hours in the gym; Guys like Jorrit Croon, Jonas de Geus, Terrance Pieters and Thijs van Dam have also gained a lot of muscle mass in recent years. "They have to do it," says Oudenaller. "Without a physically strong body, you won't succeed in today's best hockey."
Ballroom Virtuosos

The Kampong coach finds it a shame to see fewer ball virtuosos at work at the World Cup than, say, twenty years ago. "For true stylists who can decide a match with individual action, there always has to be room in a team. Especially in today's violent power hockey – with strong defensemen – there's a need for guys who can force something into a small space. It's a good combination: being both physically strong and creative.
Lomans fully agrees. "Guys like Jorrit Croon, Seve van Ass and Thierry Brinkman are precisely players who can create an opportunity out of nothing. In the first two games for the Netherlands, I again lacked the ingenuity to place someone in front of the goalkeeper with a smart free kick or a nice pass.It went better in the last match against Chile (14-0), but then the spaces were bigger and the defenders less good.
Lomans sees at the World Cup that finesse in the final pass is also lacking in many other countries. "I think it's a shame, because there are a lot of hockey players who can. For the moment everything is going very quickly, very quickly. I hope that it is precisely the stylists who will make the difference in the knockout stage.
"Introvert. Avid gamer. Wannabe beer advocate. Subtly charming zombie junkie. Social media trailblazer. Web scholar."