"It quickly went from zero to a hundred"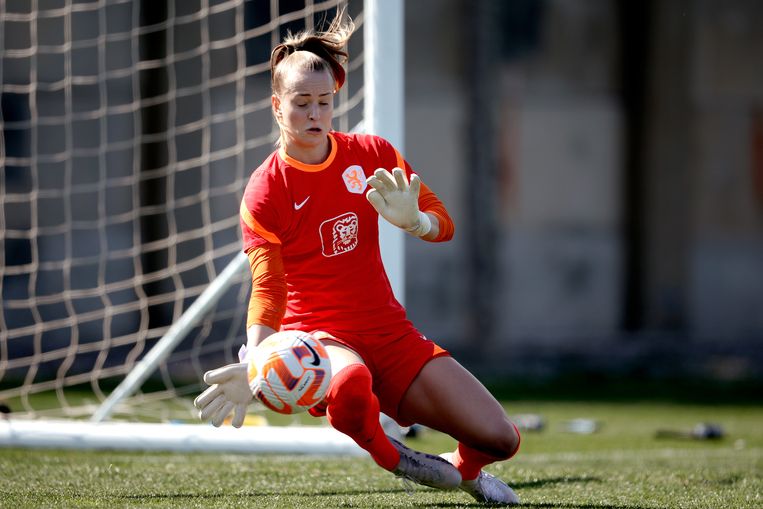 Daphne van Domselaar (22) recently saw a post on Facebook in which she was mentioned. It was a list of the top 100 players in the world The Guardian. "Later someone asked if it affected me," she says. Smile: "I didn't even know what it was."
But then, after some research, she discovered that The Guardian is a quality British newspaper whose lists represent a certain value in football. "And I thought that was cool, a big compliment."
She still has to support Vivianne Miedema (6), Lieke Martens (42), Jill Roord (60) and Daniëlle van de Donk (75), but for a 22-year-old who has just played her matches in the Premier League . for FC last year Goalkeeper of Twente and had a supporting role in the national team, the 95th place is more than deserved.
zero to one hundred

Everything is logically due to the European Championship that she played in England last summer. Then, as a goalkeeper with an international match under her belt, she suddenly had to replace the injured (and now retired) Sari van Veenendaal on one of the highest podiums imaginable in women's football. She seized her chance, became the best player on the Orange side and has been the undisputed number 1 under the bar ever since. "It went from zero to 100 quickly, yes."
Van Domselaar sits in a spacious armchair in the lobby of a five-star hotel on the coast of Malta, in the capital Valletta. Hair in a ponytail, slippers on her feet. Here, the Orange Women are preparing for next summer's World Cup in New Zealand and Australia with a training camp. Two exhibition games are scheduled, both against Austria, on Friday and Tuesday.
FC Twente

It's also nice for Van Domselaar to be on the road again with the national team. She still plays her matches with the champion FC Twente, in the modest first league. His club have won all fourteen games, scored 69 times and conceded only two goals in the competition.
After the European Championship and during the last transfer window, the top leagues showed interest in Van Domselaar, but she decided to stay. Twente didn't want to let her go this winter either.
"Our goal difference says enough," says Van Domselaar. "I didn't think I finished learning last season. Even now I can still learn, but out of ten games maybe three or four are really fun. We earn the rest. I couldn't know that in advance either, but as a goalkeeper that's of course not the best thing ever. There was interest, but I am now 100% convinced that I stayed and want to win the championship. These are my goals: to become a champion, World Cup goalkeeper and then take a step."
Sponsorship contract with Nike

England is his dream competition, but that will come later. Thanks to the European Championship, she made herself known. She notices in everything that there is a before and an after. "It's crazy that people look at me now. I didn't know that. I also consider it a compliment that you are seen. Recognition also remained, not just right after the European Championship.
Then, suddenly nuanced: "But it's not too bad, man. It's just more than before. I made a lot of headlines during the European Championship and I'm happy that everything went so well in England.
Something she gained from this tournament is a sponsorship deal with Nike. "A dream for me. Really very greasy. Nike has always felt out of reach. It's not known as a goalkeeper mark, it's more for strikers, but they still wanted me. They say they want players who make a difference. So I can be proud that they came to me, can't I?
"Introvert. Avid gamer. Wannabe beer advocate. Subtly charming zombie junkie. Social media trailblazer. Web scholar."