Irish rugby players celebrate St. Patrick's Day with win over England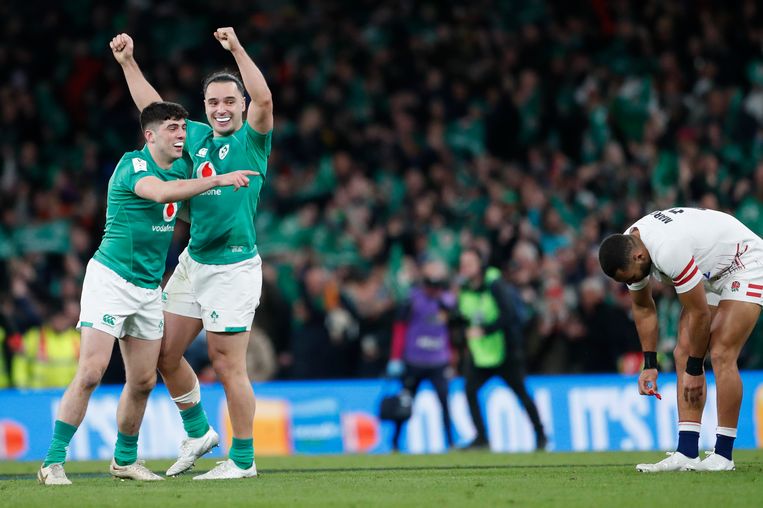 And that in the most beautiful way imaginable: by a Grand Slam, or five victories. Ireland are now the team to beat at the World Championship, which will take place in France later this year. "Everyone hates England." With this remark, Irish captain Mack Hansen had put the frantic British Isles derby on edge. The Irish were not lacking in confidence, after victories over France, Italy, Wales and Scotland.
What was still missing was a victory over England, The old enemy who is in a rugby crisis. Last weekend, the English suffered a historic defeat against France at home: at Twickenham rugby stadium it was 53-10.
The English in Dublin wanted to prevent such a beating. At Lansdowne Road they even took a 6-0 lead after two penalties from Owen Farrell, but hopes of a knockdown didn't last long. After more than half an hour, with a 6-3 deficit, Josh van der Flier made his mark. The Irish player of the year skillfully passed the ball to Dan Sheehan, who scored the game's first try. Shortly before the break, England player Charlie Ewels received a red card for a bad tackle.
Playing with one more man, the Irish claimed a comfortable second-half victory, reclaiming the Six Nations throne from France. Ireland is now number one in the world rankings. He won three of his four games against the All Blacks, New Zealand's once unbeatable side. At the end of last year, he also beat reigning world champions South Africa. Interesting detail: the coach of Ireland, Andy Farrell, is the father of the English captain.
The strength of Irish rugby is surprising, as Gaelic football and hurling have traditionally been the island's major sports. Rugby was once considered an imported sport by the English ruler. One of the great men among the Irish is Van der Flier, aka The Dutch Disciple. His paternal grandparents had come to Ireland in the 1950s to open a radiator factory. At the end of last year, the 29-year-old flanker was voted the best player in the world.
Not only in the field of rugby, the Irish have shown themselves superior to the English in recent days. At the Cheltenham Festival, the main racehorse obstacle course event, Irish horses outplayed English horses, leading Ireland to win the Prestbury Cup on St Patrick's Day.
"Devoted bacon guru. Award-winning explorer. Internet junkie. Web lover."