Hong Kongs Supreme Court Urges Government to Establish Legal Recognition for Same-Sex Partnerships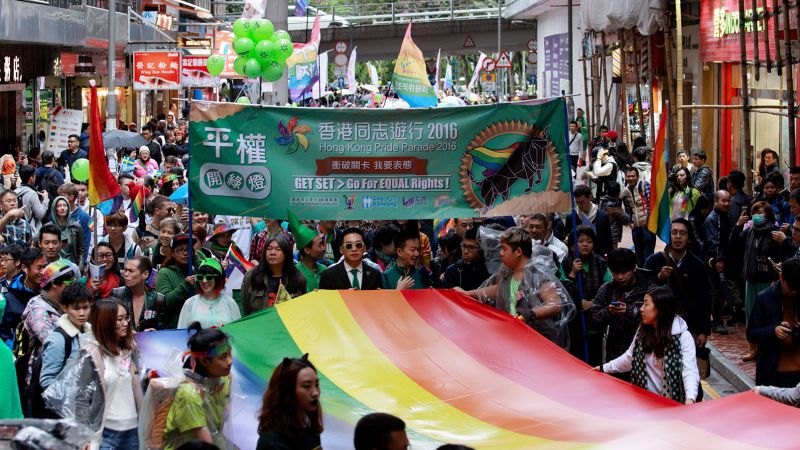 Hong Kong's top court has ordered the government to establish a new framework that recognizes the rights of same-sex couples. While this decision is being seen as a partial victory for LGBTQ activists, it falls short of granting full marriage equality in the city. Despite decriminalizing homosexuality in 1991, Hong Kong does not allow or recognize same-sex marriage or unions.
LGBTQ activists had hoped for the court to declare the denial of same-sex marriage as a breach of equal rights protections in Hong Kong's mini-constitution. However, the judges ruled that the freedom to marry was guaranteed under the mini-constitution but only referred to heterosexual marriage. Instead, they called for the establishment of an "alternative framework" that provides legal recognition and legitimacy to same-sex couples.
The government now has two years to comply with this ruling, which could have far-reaching implications for Hong Kong's gay community and overseas nationals living in the city. It is worth noting that activists in Hong Kong have been relying on the courts as their main avenue for change, as the government and legislature have been slow to catch up with more progressive jurisdictions.
Polls in Hong Kong have consistently shown growing support for same-sex equality, particularly among younger people. This ruling is seen as a reflection of that shifting mindset. However, it is important to note that this decision does not address broader LGBTQ rights in Hong Kong or the ongoing crackdown on LGBTQ activists in mainland China.
The case that led to this ruling was filed by pro-democracy activist Jimmy Sham Tsz-kit, who is currently detained on charges of subversion. Sham had been an advocate for LGBTQ issues before his detention, highlighting the importance of this ruling for him personally.
Overall, while this court order falls short of full marriage equality, it marks a significant step forward for LGBTQ rights in Hong Kong. The establishment of a new framework for recognizing same-sex couples will provide them with a level of legal protection and legitimacy they were previously denied. This decision also reflects the growing support for LGBTQ rights, particularly among the younger generation, in Hong Kong. However, there is still much work to be done to address broader LGBTQ rights in the city and the repression faced by activists in mainland China.
"Infuriatingly humble social media ninja. Devoted travel junkie. Student. Avid internet lover."