Britain's best hockey player Zach Wallace at HC Bloemendaal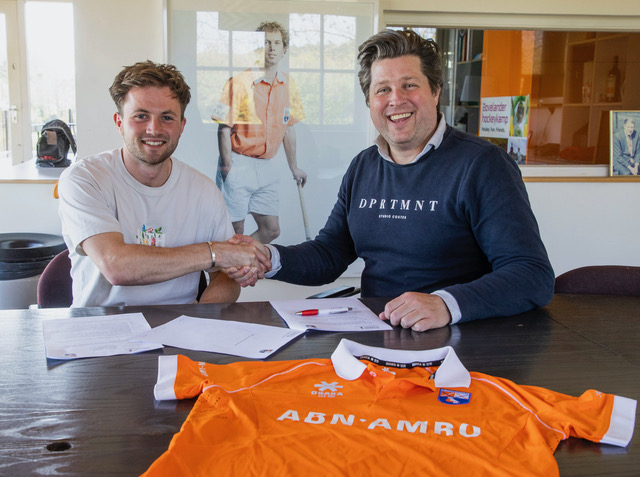 Bloemendaal – In the next seasons, the best hockey player Zach Wallace will be part of Heren 1 of HC Bloemendaal. Wallace goes from HGC to defending national champion and EHL winner. He has just returned from New Zealand where he played four games in the Hockey Pro League with Team GB. Wallace scored three goals. The 23-year-old Englishman is looking forward to coming to 't Kopje. After the Olympics, he chose HGC because playing hockey in the Netherlands was a long-time wish. He likes the style of play and the creativity. This is also what he admires in Rick Mathijsen's team.
"Bloemendaal has a long tradition of success," says the enthusiastic Briton, looking at the large portrait of Teun de Nooijer hanging in the Bloemendaal conference room. "I would like to help ensure that this successful tradition continues in the future." Zach Wallace considers it a great honor to be invited to play here as a foreigner. 'Bloemendaal are such a great team. Look at the famous names that came before me." He thinks Bloemendaal is comparable to his former club Surbiton where he started playing aged six. His father, who once played for Ireland Under-21, taught him the basics of hockey. 'Surbiton is also a family club where everyone knows each other. I think it's exactly the same here.
He knows at least Floris van der Kroon from the team, with whom he played together for a year at Wassenaar. He would love to be part of a team with such a winning mentality. He hopes to learn from it. Yes, his Dutch also needs to improve a lot. In the England squad, Wallace, who was named FIH Talent of the Year in 2019, plays up front, but he can also play well in midfield. Will he be nervous the first time he steps onto the pitch? "Absolutely, but I also think I'm going to feel at home soon."
Michiel Hilders, Top Hockey Committee: "We are very happy with the arrival of Zach. He is currently one of the most spectacular players in the Dutch big league and we welcome him to Bloemendaal. It's great that Zach wants to commit longer to our club. I'm sure we'll enjoy it immensely. Of course as a hockey player, but also as a person, I'm sure he will fit in very well with the group.
It was previously announced that Wiegert Schut would come to Bloemendaal. This is compensated by the hockey pension of captain Glenn Schuurman, Roel Bovendeert and Tim Swaen.
Photo: Zach Wallace (l) and Michiel Hilders (r) of the Top Hockey Committee. Photo: Koen Suyk.
"Devoted bacon guru. Award-winning explorer. Internet junkie. Web lover."