Apple is holding back in the new AI race: is the company missing the boat? | Technology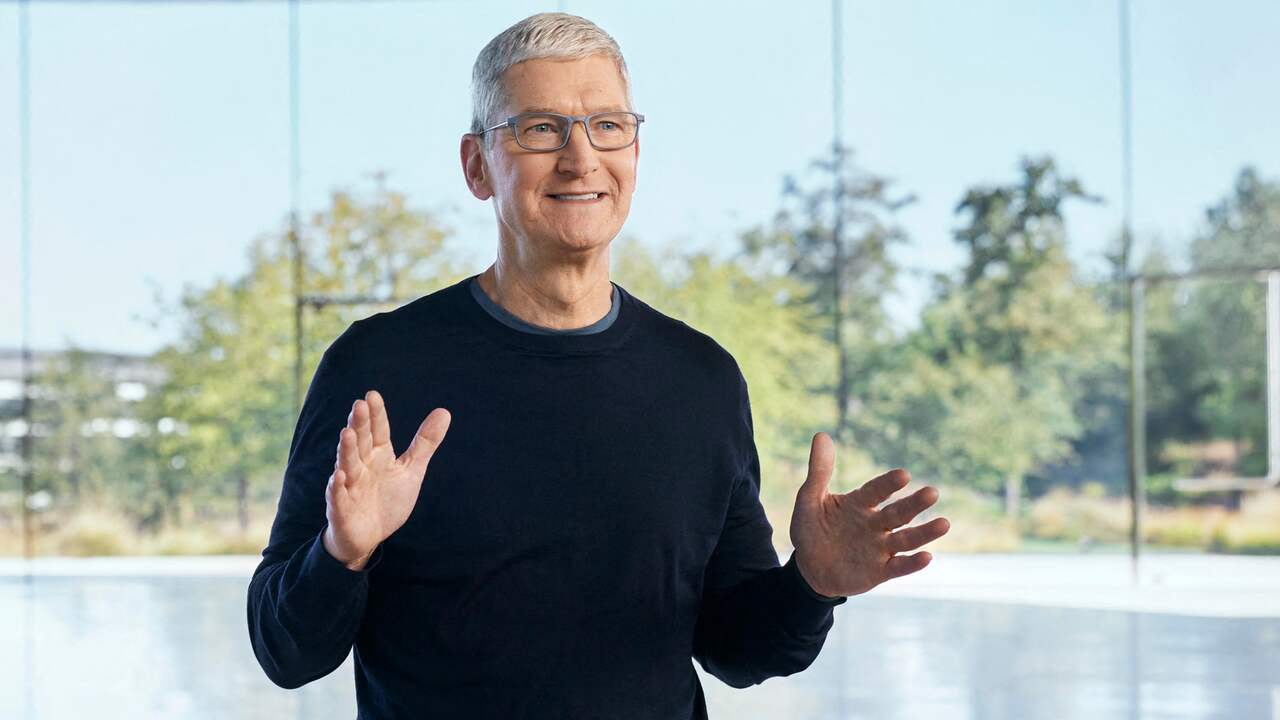 Google, Microsoft and OpenAI are scrambling to show what is possible with their AI. But what are Apple's plans for artificial intelligence? Tim Cook's company doesn't really seem to be getting into the game yet.
Kunstmatige intelligentie gaat de Google-zoekmachine overnemen, ChatGPT kan hele opstellen schrijven en programma's als Midjourney kunnen alle kunstwerken maken die je kunt verzinnen. Grote techbedrijven als Microsoft, Alphabet en Meta hebben gezegd aan AI te werken, maar Apple houdt de kaken wat meer op elkaar.
Bij de recente bekendmaking van de kwartaalcijfers werd Apple-directeur Tim Cook gevraagd naar zijn plannen met kunstmatige intelligentie. Daar ging hij nauwelijks op in. Wel zei hij dat het belangrijk is om bedachtzaam met AI om te gaan. "Er moet nog een aantal problemen worden opgelost", zei hij. "Maar de technologie is veelbelovend."
Welke problemen hij bedoelt, is niet bekend. Cook trad niet in detail. We weten wel dat Apple niet helemaal blind is voor AI. Het bedrijf maakt al jaren gebruik van kunstmatige intelligentie. Bijvoorbeeld in spraakassistent Siri en de zoekfunctie van de Foto's-app. Ook de Apple Watch gebruikt AI, onder meer zodat het herkent wanneer een drager valt.
"We hebben veel vooruitgang geboekt door AI in ons ecosysteem te verweven", zei Cook. "We zien AI als iets groots en zullen de technologie blijven toevoegen, maar wel op een bedachtzame manier."
Deze trend lijkt niet zo belangrijk voor Apple
De huidige trend gaat specifiek over 'generatieve AI'. Dat is een vorm van kunstmatige intelligentie die iets nieuws kan maken wat eerder nog niet bestond. Of dat nou tekst is of een afbeelding, een video of muziek. En juist deze vorm van AI is niet heel belangrijk voor Apples huidige verdienmodellen, zegt analist Annette Zimmerman van marktonderzoeker Gartner.
"Google raakt het wel, bijvoorbeeld op het gebied van Zoeken", zegt Zimmerman. "Daarom treedt het bedrijf actief naar buiten over dit onderwerp en mengt het zich nadrukkelijk in het gesprek over AI." Maar dat Apple in stilte opereert, betekent niet dat het achter de schermen nergens mee bezig is. "Ik weet bijna zeker dat Apple intern aan verschillende projecten rondom generatieve AI werkt."
Daar sluit Wim Zwanenburg, beleggingsstrateeg bij Stroeve & Lemberger, zich bij aan. "Generatieve AI staat bij Apple minder centraal dan bij Microsoft en Alphabet", zegt hij. "Apple is meer bezig met het maken van hardware, hoewel de hardware van Apple zeer geschikt is voor toepassingen van AI."
Apple hoeft ook niet zo nodig de eerste te zijn met een product, zeggen de analisten. Met Siri was het bedrijf vroeg, maar ondersteuning voor 5G kwam later dan concurrenten. "Apple heeft een uitgebreide productplanning maar deelt die met niemand", zegt Zimmerman. "Het kan ze ook niet schelen waar andere bedrijven mee bezig zijn en of een concurrent iets eerder een product uitbrengt dan zij."
Privacy violations are prohibited
So what Apple is doing remains a guess. Yet, it seems the company is lagging behind in AI development simply because it cares deeply about user privacy. Much of the user information is processed on the iPhones themselves, no internet is involved. But AI systems that are publicly tested online receive a lot more data, allowing them to learn and improve faster.
The downside is that these systems also slip. For example, by spreading misinformation and fake news around the world. "And the banning of ChatGPT in a number of countries due to privacy concerns is absolute nonsense to Apple's strategy," Zimmerman said. "Apple will have to find a way around the privacy issues and still be able to train AI models."
Apple won't ignore another "iPhone moment"
For now, Apple doesn't have to get involved in the discussion around generative AI. The company does not have its own search engine like Google and Microsoft and can focus on other things. But if developments around AI continue to accelerate, more will be expected from Apple as well.
The fact that Apple stays on the sidelines in this race has not yet resulted in any sanctions for users and investors, Zwanenburg explains. "But there will likely be questions about it at Apple's WWDC developer conference in a few weeks."
"The introduction of ChatGPT is considered a new 'iPhone moment'," Zwanenburg said. The arrival of the first iPhone is seen as a turning point. From then on, smartphones became the norm and button phones fell into disuse. "It's not something that Apple will simply pass up."
"Bacon trailblazer. Certified coffee maven. Zombie lover. Tv specialist. Freelance communicator."