'Power to the Pieper': Province investing millions in local food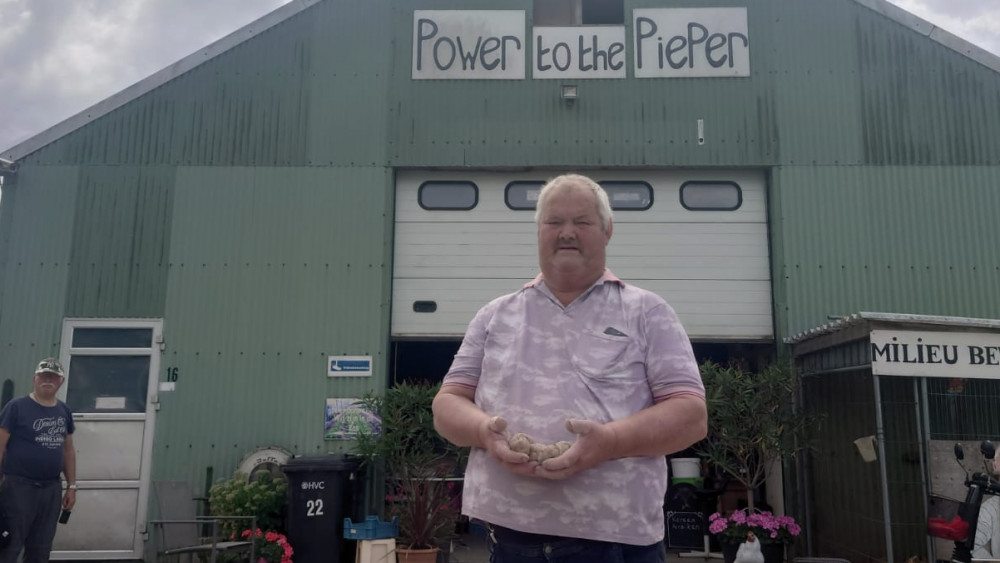 Did you know that our food travels an average of 30,000 kilometers before reaching our plates? The province of North Holland therefore wants us to eat closer to home and is investing 2.7 million euros in local food and sustainable agriculture. What does this mean for regional products from North Holland?
Pieter Groot from Middenbeemster owns about a hundred cows and makes one hundred kilos of Beemster cheese a day. He sells almost all of this cheese in his own farm shop or in Schemer's organic shop. Initially, he also sold cheese to a middleman, who sold it to tourist shops. When that fell apart during the pandemic, Groot stopped doing it. He likes it much better. "Selling directly to customers gives me much more satisfaction."
The province invests
Direct contact between farmer and consumer, as in Middenbeemster, is exactly what the province of North Holland wants to achieve in the years to come. In 2023 and 2024, the Provincial Council will invest 2.4 million euros to make food production in North Holland more sustainable. This money is intended, among other things, for the production of plant-based food, the prevention of food waste and projects in North Holland that are committed to feeding the region.
For example, The Farm Kitchen company received a grant of almost 100,000 euros to build a mobile kitchen on the farm of farmer Jan Ham, in Nieuw-Vennep. The intention is to transform vegetables from the land directly into company meals. The Farm Kitchen eventually aims to serve 3,000 lunches a day.
In recent years, many farmers in the region have taken the initiative to sell their products directly to consumers. The same goes for the sheep farmer from Texel, Arjen Boerhorst. He sells his lamb through his own farm shop and to the local butcher. "We have a wonderful product here in Texel, why are we still eating lamb from Australia? »
He hopes the province's money will end up in the right place. "Please don't join another 'food-connects' project."
Coverage doesn't come naturally
The transition has not been easy for farmers who mainly export their products overseas. Moreover, some farmers are not keen on selling their products in the region.
For example, Simon Wilms, a farmer from Noordkop, grows around 800 tons of onions a year, most of which he exports to Senegal. "We produce more onions in the Netherlands than we can consume," he says over the phone.
However, he would also like to sell his onions in the Dutch supermarket. "At the Albert Heijn in Anna Paulowna, they come from New Zealand. I sometimes think: I'll put them in a bag and drive myself to the Albert Heijn.
But it's almost impossible. He must first clean the onions himself, because "the consumer wants the tail removed from the onion and the outer skin removed". The middleman now does that job, and if Wilms wants to take over, he'll have to invest in machines he can't afford. "And then you still have to compete with the established names."
The fact that the onions are shipped from Wilms in Senegal, while the onions from the nearby supermarket come from New Zealand, is not an unknown problem. Our food travels an average of 30,000 kilometers before it ends up in our refrigerator.
Intermediaries
The province's plan to consume more food from the region is part of a national approach launched by Minister Carola Schouten in 2020. Schouten spoke to various farmers about sustainable agriculture during a "digital national trade mission ".
Farmers then complained to Schouten that the French and Italians are generally more proud of their local produce, while the Dutch often seem unaware of what grows here.
Perhaps North Holland's proudest farmer lives in Opperdoes. Hero Stam is the potato engine, the Round Opperdoezer. Although he hasn't heard of the province's plan, he himself has been shortening his channel for some time. He left 'The Greenery', an organization that buys and resells produce from farmers. "I didn't like the fact that I had to sell everything to them and wasn't allowed to decide anything myself."
Now he sells five-kilo cases of Opperdoezer Rondes along the road. Generally to consumers, but also to restaurants such as De Librije in Zwolle. Stam can now decide for himself what he does with his product, and he likes that much better. "These intermediaries all cost money and now I earn a lot more from them."
What is Local?
However, not all regional produce farmers in North Holland want to shorten the chains. De Boer cultivates around 200 hectares of coal and processes it on its own site. De Boer packs and labels cabbage for the supermarket and cuts cabbage for salads and spring rolls.
About half go abroad, "because these are considerable volumes and it is quite difficult to sell locally". De Boer does not lose sleep. "We are proud of our products and we don't care who buys them. Whether it's someone from the village, the city or from abroad. Last Christmas we received a Christmas card from Germany, which they have never received so many eaten delicious pointed cabbage. It just makes you proud.
Van De Boer doesn't have to be local. "We live in a big world. If I load it on the truck today, it will be in the store in Germany tomorrow. Those are also short chains."
Advise us!
💬 Send a Whatsapp message with a tip, photo or video to 06-30093003 (convenient to save in your phone)!
📧 Contact editors or journalists in your area via our tip form.
To stay informed?
🔔 Stay informed of the news in your region, download the free NH News application via the App store or the Google Play Store.

"Devoted bacon guru. Award-winning explorer. Internet junkie. Web lover."