Mehmet Simsek's return to Finance may well signal Erdogan's change of economic course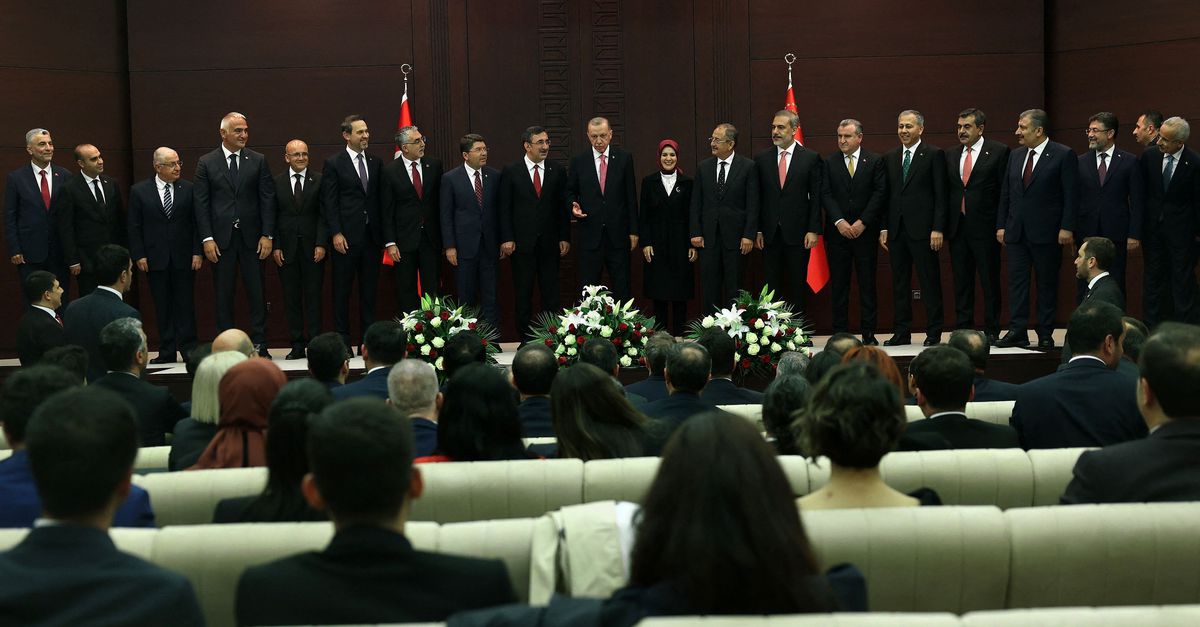 Respected economist Mehmet Simsek is Turkey's new finance minister. This is the most important appointment announced on Saturday by President Erdogan during the presentation of his new cabinet. Simsek was highly regarded by foreign investors when he served as finance minister and deputy prime minister between 2009 and 2018. His return is a signal that Erdogan is ready to change course economically after years of erratic policies and little which led to a spike in inflation and brought Turkey to the brink of a balance of payments crisis.
Speaking at the swearing-in ceremony, Simsek said the main goal of the new government was to increase social welfare. According to him, Turkey has no choice but to return to "rational bases" to ensure the predictability of economic policies. "Reducing inflation to single digits over the medium term, increasing predictability and accelerating a structural transformation that will reduce the current account deficit are vital for our country," he said at his first press conference on Sunday. The question is whether Simsek will have enough space to put the words into action.
Read also: Is Erdogan changing the economic course after his electoral victory?

The rest of the cabinet also consists of capable technocrats, including a number of notable names. One of them is the new foreign minister, Hakan Fidan. He replaces Mevlüt Cavusoglu, one of Turkey's oldest diplomats. Fidan is a confidant of Erdogan. He started as an adviser when Erdogan was still prime minister. Since 2010, he was director of the intelligence service at MIT, which under his leadership took on a more active role in foreign policy. Especially after the failed coup of 2016, when MIT kidnapped dozens of suspects from other countries with the ministry. Fidan also plays a leading role behind the scenes of the Syrian dossier.
New constitution
"By appointing prominent figures to conduct economic and foreign policy, Erdogan has freed himself to focus on a national agenda: the drafting of a new constitution," tweeted Soner Cagaptay, director of the Turkey research program. from the Washington Institute for Near East Policy. In his speech after being sworn in as president on Saturday, Erdogan promised to draft a new constitution. "We will save our democracy from the current constitution, which is a product of the coup [van 1980]and strengthen it with a libertarian, civic and inclusive constitution," he said.
Erdogan has freed himself to focus on a national agenda: drafting a new constitution

Soner Cagaptay Washington Institute for Near East Policy
As interior minister, Erdogan elected an experienced bureaucrat: Ali Yerlikaya. He was governor of the provinces of Sirnak (2007-2010), Agri (2010-2012), Tekirdag (2012-2015), Gaziantep (2015-2018) and Istanbul (since 2018). Yasar Güler has been appointed Defense Minister. Güler is a professional soldier who served in the military for nearly half a century. He was appointed chief of general staff in 2018 after his predecessor Hulusi Akar became defense minister. He was the commander of the armed forces during the Turkish military operations in northern Syria in 2019 and 2020, then in northern Iraq. The only woman in the new cabinet is Family Affairs Minister Mahinur Özdemir Göktas, who was born in Belgium and served as a parliamentarian for the Christian Democrats in Brussels.
Notable absentees from the new government are: Süleyman Soylu, the popular nationalist interior minister, known for his anti-Western diatribes full of conspiracy theories, and allegedly doing shady business with underworld figures. And Hulusi Akar, who was taken hostage as chief of staff by the putschists in 2016, refused to declare martial law, and for his loyalty was rewarded by Erdogan with the appointment to the post of defense minister in 2018. Both have a good place on the electoral list and elected to the new parliament.
"Infuriatingly humble social media ninja. Devoted travel junkie. Student. Avid internet lover."