Max Verstappen is looking forward to a new battle with Sergio Pérez: 'We have to fight on the circuit' | sport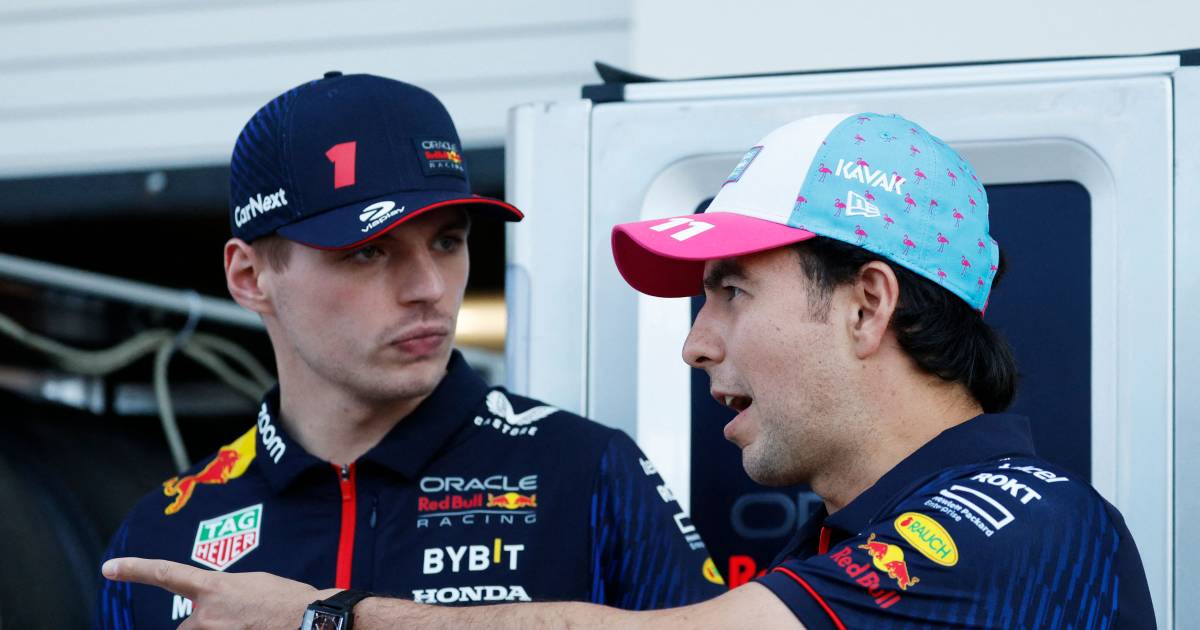 Max Verstappen is aiming for his second victory in Miami. Then he has to beat his teammate Sergio Pérez this time on a street circuit. The world champion reacted in Florida to the specialty of his teammate and the duel they are now engaged in.
Max Verstappen came to Miami in good spirits. Last year's Grand Prix winner loves being back in Florida. "The atmosphere is nice here, although it's also busy for us because there's so much racing around," he said at Hard Rock Stadium, which sits in the middle of the street circuit.
There, the double world champion had to respond once again to the controversy that pitted him against Mercedes driver George Russell last week after the sprint race in Azerbaijan. How are the relations between them now? "Horrible," Verstappen said. ,, No, this is of course a joke, although some people will like to hear that we are arguing. But everything is fine between George and me.
Verstappen has also responded to his conflict with Sergio Pérez. "It's still early in the season, but we both know we have a very good car," said the Dutchman. "So it makes sense that it's between the two of us at the moment. We have a good relationship and we both want to go faster. With the whole team, our priority now is to keep the difference with the others. is what we do and then it's up to the two of us to fight on the track."
This circuit is again a street circuit in Miami. And Perez does a great job on that. "Some circuits suit you well," explained Verstappen. ,,For Pérez these are urban circuits and for me this is not the case. I like fast corners and you usually see them on normal tracks. It could be an additional challenge for Verstappen in the hunt for his second consecutive victory in Miami.
Nick de Vries
For Nyck de Vries, the interests in Miami are very different. De Vries walked through Miami Beach this week in a sweater, jacket and long pants. The Dutchman wanted to prepare for a sweltering grand prix. In the United States, he is keen to finally put the weekend in Azerbaijan behind him.
De Vries repeated in Miami what he had stressed a few times in recent days. The AlphaTauri Dutchman is happy to be able to contest another race the week after the Azerbaijan Grand Prix was so disappointing for him. He said so during the press conference in one of the Miami Dolphins' Hard Rock Stadium locker room after bringing attention to the victims of the storm in Emilia-Romagna. "I would like to express my condolences to the people of Faenza," De Vries said.
He then admitted that the upcoming race helps get the last one out of his system quickly. "Furthermore, we can still take positive things from Baku," he stressed. ,,We started this weekend competitively and showed that we have improved as a team. It gives confidence and I hope we can show it again here in Miami. We got here early to acclimatize. It's going to be an interesting weekend and I'm really looking forward to it.
De Vries' acclimatization was controversial. To get used to the heat, the Dutchman ran ten kilometers through Miami Beach in three layers of clothing. "I was wearing a jacket, sweater, long pants while my trainer walked beside me shirtless," he said. ,,It feels and it will be like that during the race. It's hot and the race is long. You don't get cold and it keeps your heart rate elevated.
Miami will once again be a race on a street circuit. Just like the last three, in Baku, Melbourne and Jeddah. This could complicate the task of De Vries, who is only driving for the first time on many circuits on the calendar. "But I don't want to make excuses, because the program is the same for everyone," he said. "I know that street circuits have small margins. So if you make a small mistake, it has consequences.
It happened in Azerbaijan, but he doesn't want to think about it now. In the Miami heat, he gets another chance.
View the 2023 Formula 1 calendar here
Free and unlimited access to Showbytes? That can!
Log in or create an account and don't miss anything from the stars.

Yes, I want free and unlimited access
"Introvert. Avid gamer. Wannabe beer advocate. Subtly charming zombie junkie. Social media trailblazer. Web scholar."