Evacuations continue, third Dutch flight from Sudan en route to Jordan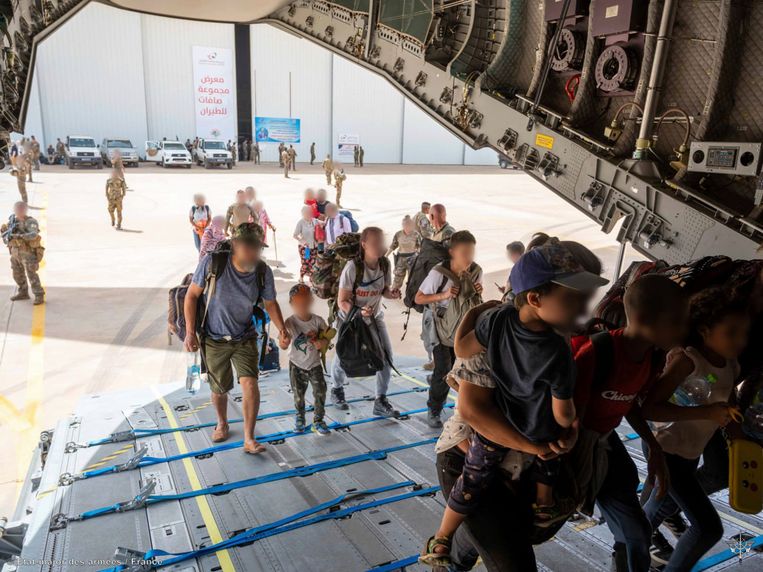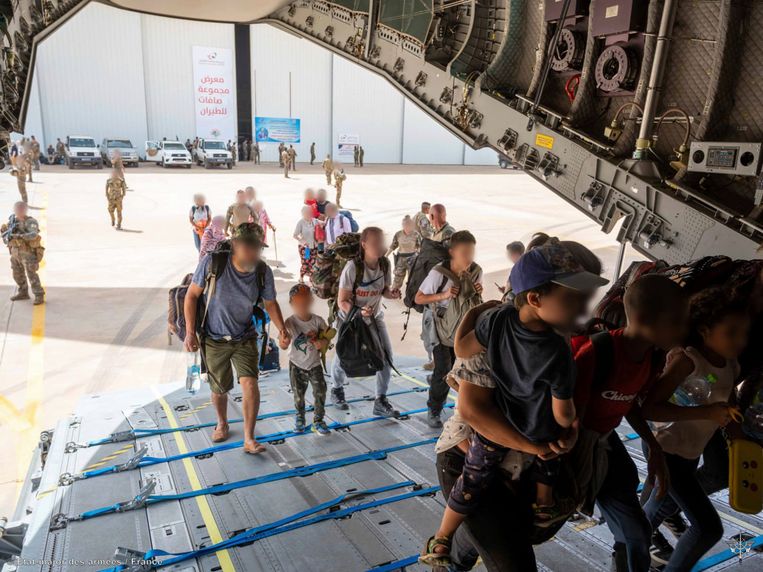 Minister Wopke Hoekstra previously announced that sixty Dutch people had now been evacuated from Sudan. They left the country with the Defense C130 Hercules transport plane and with other flights from international partners.
Minister Kajsa Ollongren (Defence) announced on Twitter that the second evacuation flight with the Air Force Hercules transport plane left Sudan on Monday afternoon. She also said the Defense and Foreign Ministries have pledged to carry out more flights. "This in close consultation with our partners and according to the local situation."
On Monday morning, the first Dutch evacuation flight from Sudan landed in Jordan, with 32 evacuees on board. Fifteen Dutch were on this flight. The flight was not full, reports the Ministry of Foreign Affairs. "At the time of departure, there were no more people present who could be taken on this flight."
A few dozen Dutch from Sudan also left for Jordan on German evacuation flights. According to the German news agency dpa, 42 Dutch people were among the 311 evacuated on board three flights. A number of Dutch people also arrived in the East African country of Djibouti on Sunday evening on a French flight. Those evacuated from Sudan to Jordan will then be flown back to the Netherlands, according to the Foreign Ministry.
The evacuation to Sudan was carried out by Dutch marines. In recent days, the possibilities of evacuating the Dutch have been explored, according to the Ministry of Foreign Affairs. On Sunday, it became clear that a time slot at the airport was becoming available. The ministry informed the Dutch in Sudan about this and kept in close contact with them about the transfer to the airport.
People evacuated from Sudan are received in Jordan by employees of the Consular Support Team (Scot). The Scotsman is a team of Foreign Affairs employees who can be deployed quickly to an area where many Dutch people need help. They will then be brought to the Netherlands from Jordan. In the meantime, Defense and Foreign Affairs continue to work on the evacuation of people who were not yet on the first flight from Sudan, according to the Foreign Ministry.
french plane

A number of Dutch people have already landed on a French flight in Djibouti, an East African country, on Sunday. They were looked after by two employees of the Scotsman. A Foreign Affairs spokesman could not say how many people were involved overnight from Sunday to Monday. The two Scottish employees arrived in Djibouti on Saturday evening and set up, among other things, a reception area for the evacuees.
Minister Wopke Hoekstra (Foreign Affairs) announced on Sunday that a first group of Dutch people had been evacuated from Sudan. He also used a French plane and flew to Jordan. According to Hoekstra, there would be "a handful" of Dutch people on board the plane. If they have now arrived in Jordan, the spokesperson could not say overnight from Sunday to Monday.
Evacuations are not without risk. "The Dutch have to decide for themselves if they want and can use it," reports the Foreign Office. According to the ministry, it is "unpredictable" how long it will be possible to evacuate people.
Some Dutch people in Sudan have informed the Ministry of Foreign Affairs that they cannot come to the airport because they have no means of transport. Others dare not go to the airport because of the poor security situation in the capital Khartoum. A number of Dutch people do not want to leave their families behind.
Evacuation of EU citizens

More than a thousand European Union citizens have been evacuated from Sudan. EU foreign affairs chief Josep Borrell said it was "a complex but successful operation".
After Saudi Arabia, the United States and the United Kingdom announced at the weekend that they had started rounding up civilians, evacuations from other countries are now also underway. Spain says it has completed the operation and Denmark has managed to bring in a group of fifteen people from Sudan. Sweden and Canada have evacuated their diplomats and staff from their embassies. China says it sent a task force to Sudan and that a "group with personnel" was able to leave the country safely.
fights

Fighting in Sudan entered its second week on Saturday. The regular government army led by General Abdel Fatah al-Burhan is fighting the paramilitary Rapid Support Forces (RSF) of General Mohamad Hamdan Dagalo. In 2021, the two generals seized power in a joint coup, but relations between the two men have since been disrupted.
At least 400 people have been killed in the fighting, including 256 civilians, according to the Sudanese Doctors Association. Thousands of people were injured.
Evacuation #Sudan at his best. ~60 NLers have now been able to leave the country, via flight 🇳🇱 C-130 & with flights from international partners. I'm glad they're safe now. We will continue to do everything possible to evacuate other TNL who wish to do so. 1/2

— Wopke Hoekstra (@WBHoekstra) April 24, 2023
"Infuriatingly humble social media ninja. Devoted travel junkie. Student. Avid internet lover."