Danish military proves Russian ship sailed near Nord Stream just before explosion | Economy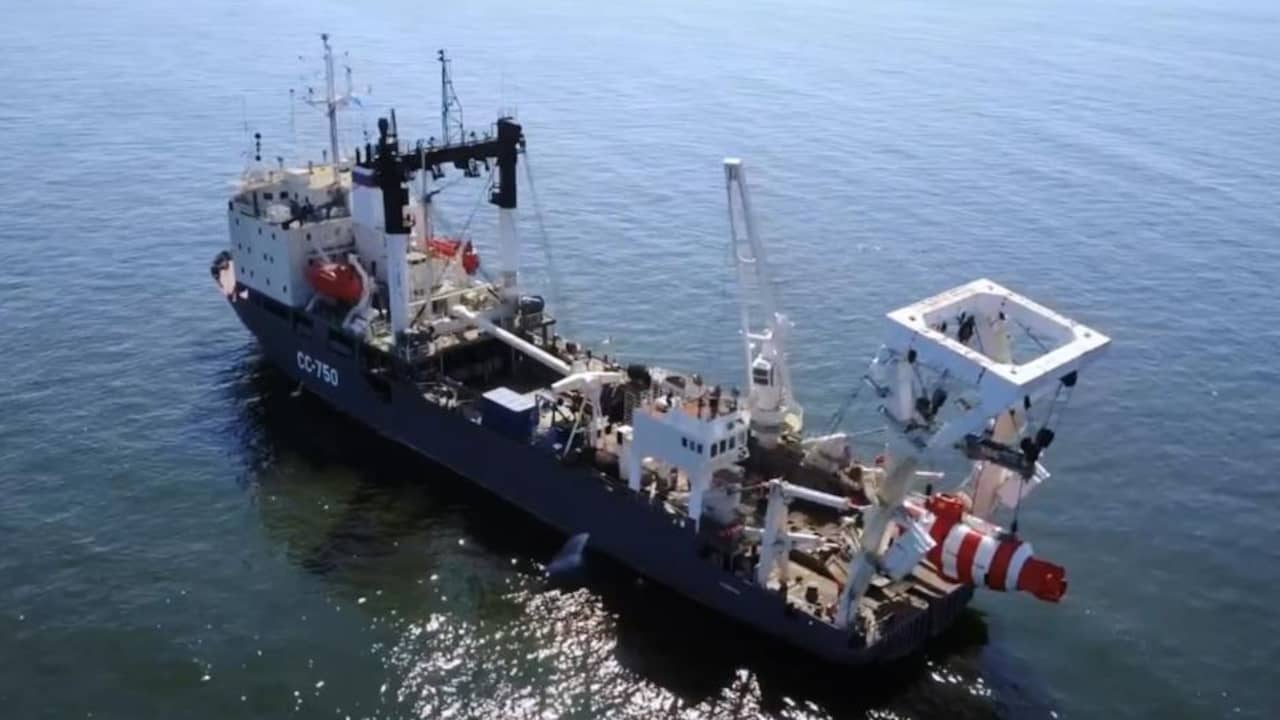 ---
28 apr 2023 om 09:57Update: 3 uur geleden
Four days before the Nord Stream pipeline explosions, a Russian vessel was photographed near the pipelines. The Russian ship carries a mini-submarine and is specially designed for underwater operations.
A Danish patrol boat took 26 photos of the Russian ship, SS-750, east of the island of Bornholm on September 22 last year. This is confirmed by the Danish military Information. Four days later, several explosions occurred in pipelines near Bornholm. Denmark does not want to share the photos as they are part of intelligence work.
The mini-submarine is of the AS-26 Priz type and has clamshell buckets. According to Swedish intelligence expert Joakim von Braun, the SS-750 with submarine is designed only for underwater operations.
Satellite images were already known of the departure of the ships on September 21, 2022 at 0:22 a.m. from the Russian port city of Kaliningrad. It was previously believed that the SS-750 and five other ships only made it to the pipeline area after the explosions.
But the photos show that the Russian convoy was present in Bornholm just before the explosions. "It is very likely that these ships were involved in the sabotage operation," von Braun said.
Wat is Nord Stream?
De Nord Stream 1 en 2 zijn onderzeese pijpleidingen in de Oostzee. Ze brengen Russisch gas van Rusland naar Duitsland en kunnen zo miljoenen Europese huishoudens aan warmte helpen.
De nieuwste – Nord Stream 2 – is door de oorlog in Oekraïne nooit in gebruik genomen. Daarnaast sloot Rusland de Nord Stream 1 in september voor onbepaalde tijd.
Op het moment van de explosies werd er dus geen aardgas geleverd. Wel zaten er nog restanten gas in de leiding.
The Kremlin points the finger at the United States
Denmark, Sweden and Germany are investigating the explosions. The various authorities assume the sabotage, but it is still unclear who is responsible.
There are several theories about who is behind the explosions. The West suspected Russia of sabotaging the pipelines, but a German researcher said no evidence had been found. The Swedish prosecutor said earlier this month that theories are also being circulated to sow confusion.
The Kremlin has always denied any involvement. Russia is pointing the finger at the United States. This country also denies any involvement. Unnamed US officials say it is very likely that a pro-Ukrainian group was behind the action.
Correction: An earlier version of this article stated that the Norwegian military was in possession of the photos. It's not true. It must be the Danish army. The post has been edited.
"Infuriatingly humble social media ninja. Devoted travel junkie. Student. Avid internet lover."