a new way to search for extraterrestrial life
Space dust seems like an insignificant speck that we typically overlook in search of exciting exoplanets or other space objects. But we can be wrong about that.
An asteroid caused the end of the age of dinosaurs 66 million years ago. In this gigantic cosmic collision, large amounts of gravel and stones were hurled into space. It is possible that signs of life on Earth were transported in the form of fossil remains to solar systems far from here.
But it also applies the other way around: by analyzing other space junk, we may be able to track down extraterrestrial life. Professor Tomo Totani of University of Tokyo said Scientias.nl about the possibilities of capturing space dust and testing it for biological residue.
Dust you are…
"Exploit research shows that dust particles of a few micrometers, coming from the surface of planets orbiting distant stars, end up with us on Earth. It also happens the other way around. I haven't fully calculated this scenario, but major comet impacts in the past, like the asteroid that killed the dinosaurs, have undoubtedly sent large chunks of the earth's surface, including small rocks and gravel, in space. A significant part of these particles was ejected from the solar system, the rest found a new place in the planetary system of one of the other near-Earth space objects," says Totani.
Microbial fossils?
Space debris may have broken off from a distant, unknown planet tens of millions of years ago and thus traveled gigantic distances in our direction. "In principle, it is possible that we find something alive in space debris, but the risk of non-living signs of extraterrestrial life in microparticles is much, much higher. So I focused my research on that. A space rock must be large enough – at least over a kilogram in weight and more than a few micrometers in size – to shield microbes from cosmic rays in space. Few of these large stones move through space. The chance of finding a sign of life in such stones is therefore also much lower.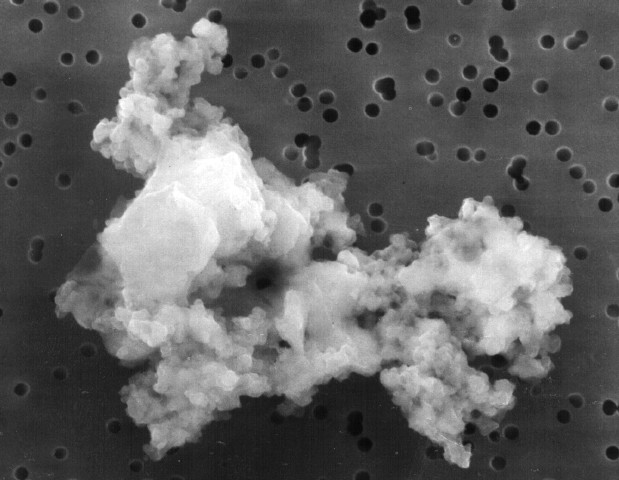 airgel
Therefore, tiny dust particles are more interesting. Who knows, we may be able to collect these microparticles in the near future, for example via an airgel in orbit around the earth. "It is difficult to distinguish the microparticles of space from the "ordinary" sand found on Earth. It is therefore much easier to collect the particles of an airgel outside the atmosphere. This way, there is also less chance that any fossils would have been affected by the impact on the earth's surface. Yet research on Earth is also valuable. It may soon be possible to make a better distinction between terrestrial and extraterrestrial dust particles thanks to new technologies," explains the astronomer.
Sign of life. And then?
But what if we actually collect microparticles in space, in which hide fossils of possible extraterrestrial life? "Then the next step is to prove that the microparticles and their biological content really came from outside our solar system. We will look closely at the fossil remains, analyze the properties and compare them to life on Earth. isotopic research (IRMS), we examine the origin of the inorganic material of which the microparticle is made.
Abiogenesis
"If it turns out that the sand actually came from another part of the universe, that means life exists outside of our solar system. If the fossil remains have a different origin than life on Earth, then the probability that extraterrestrial life exists on another planet is very high, almost 100 per cent," says Professor Totani. "It is also possible that a fossil appears to have the same origin as life on Earth. Then we can conclude that the risk of abiogenesis is very low.
Abiogenesis is the origin of life on a planet from non-living matter (without supernatural or metaphysical input). "Living organisms and the building blocks of life hitch a ride with space debris and larger rocks. It is up to us to analyze their content and the matter that make up the microparticles and discover their origin," concludes- he.
"Food expert. Unapologetic bacon maven. Beer enthusiast. Pop cultureaholic. General travel scholar. Total internet buff."